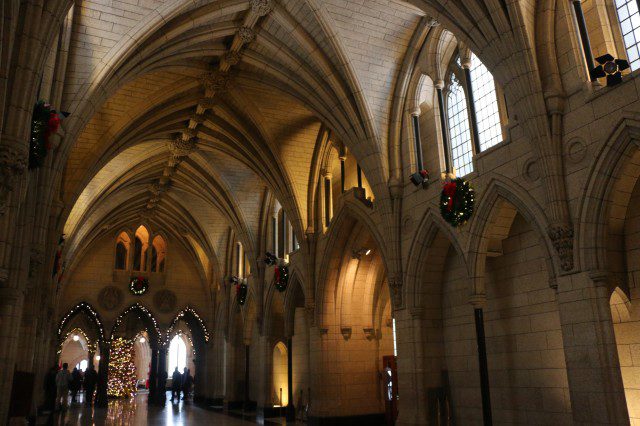 In 2004, retired Justice John Gomery's Commission of Inquiry into the Sponsorship Program and Advertising Activities began looking into allegations of corruption and conflicts of interest in the PMO.
The inquiry found that the PMO under former Prime Minister Jean Chrétien had mismanaged government sponsorship contracts. For example, Groupaction Marketing, Inc., a Montreal-based advertising firm, had been paid $550,000 to release a federal report that it never completed. This proven mismanagement had cost Canadian taxpayers a total of $250 million.
In the first of two reports, Gomery sought to describe and assign responsibility to the many players within the scandal. He found one of the main factors contributing to the scandal was an "unprecedented decision to direct the Sponsorship Program from the PMO, bypassing the departmental procedures and controls which the Deputy Minister of [Public Works and Government Services Canada] would normally have been expected to apply and enforce." [1]
In February 2006, Gomery concluded his inquiry with 19 recommendations, including that Parliament reinstate accountability in the federal system. Part of his findings described the negative public perception of the PMO and the power the office wields. "The concentration of power in the PMO makes it progressively more difficult for counter-balancing forces in Cabinet, in the public service and in Parliament to modify or to oppose measures advocated by the Prime Minister," Gomery explained.
The report determined that the ultimate solution in Ottawa is not a whole new set of rules, but a change in the government's culture.
One of Stephen Harper's first acts after becoming prime minister in January, 2006 was to establish the Federal Accountability Act — in accordance with Gomery's recommendations. The initiatives include a ban on large personal donations to political parties, monitoring positions of public trust so they will not be involved in private lobbying, and enhancing the Auditor General's power to follow a paper trail of government spending. [3]
In March 2008, Gomery appeared before a Commons committee to criticize the Conservative government for not implementing one of his recommendations — that significant power be removed from the "unelected and unaccountable people working in the PMO." He presented this failure as an integral danger to democracy. "We have a government where one man seems to have an ever-increasing influence upon what government policy is going to be. If you look back historically at prime ministers in the past, I don't think they had the same hold over their party and Parliament that the present prime minister has." [4]
 Next: The PMO vs. the press gallery
---
1. Gomery, John. Commission of Inquiry into the Sponsorship Program and Advertising Activities. Ottawa: Public Works and Government Services Canada, 2005. Print.
2. Leblanc, Daniel and Campbell, Clark. "Slash power of PMO, Gomery urges," Globe and Mail, February 2, 2006.
3. Federal Accountability Action Plan, April 2006.
4. Brennan, Richard. "Gomery challenges Harper and the all-powerful PMO," Toronto Star, March 14, 2008.